The Windsor-Detroit Bridge Authority has awarded three contracts worth a combined total of $86 million for construction related to the final step in site preparation on the Canadian side of the Gordie Howe International Bridge.
Much of the work involves moving overhead power lines underground and connecting to new transmission towers.
Prysmian Cables and Systems Canada Ltd. will cover the cable and accessories, Valard Construction LP will relocate the transmission lines and Amico Infrastructures Inc. and Mid-South Contractors ULC will team up to deal with distribution line relocation.
"The second stage of preparatory works is another step in delivering Canadian and U.S. sites that are ready for construction to our eventual private-sector partner," said Michael Cautillo, President and Chief Executive Officer of the WDBA. "The more work we complete now, the more quickly our partner will be able to begin construction after financial close."
This is the second time Amico, based in Oldcastle, Ont., has won a multi-million dollar contract for work on the bridge.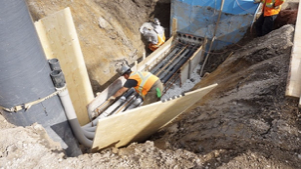 In September 2015, the local company was awarded $59 million to construct a perimeter access road and for utility relocations and fill placement on the Canadian port of entry site.
With this new contract, Amico wokers have already begun helping move seven and a half kilometres of power lines underground, according to WDBA spokesperson Mark Butler.
"They're digging the trenches, feeding them (cables) through and building the conduits that actually go into the trenches, so it's a very precise job," he said.
On Friday, WDBA chairman Dwight Duncan was talking tough about land acquisition for the span during the bridge authority's Annual Public Meeting.
All Canadian land necessary for the crossing has already been purchased, according to Duncan, along with 60 per cent on the American side.
As for concerns that Ambassador Bridge owner Matty Moroun might make it tough to pick up the remaining properties, Duncan said he was ready for a fight.
"We will win," he said. "Bring it on."