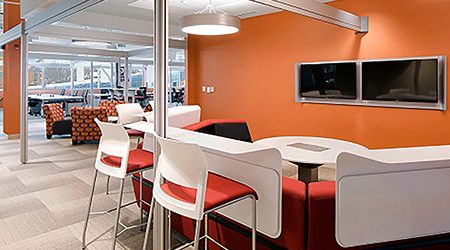 The University of Windsor's Innovation Centre was designed to complement and integrate with the school's Ed Lumley Centre for Engineering Innovation and the Odette School of Business to support and promote student entrepreneurship.
Mid South Contractors ULC was awarded the $850,000 electrical contract for construction of this unique facility. The work included full electrical power, lighting, and networking.
The Innovation Centre consists of 39,000 square feet over two stories. While Campus Security, the Office of Research and Innovation Services, Windsor Family Credit Union, and common and collaborative open spaces occupy the first floor, the second floor houses The Entrepreneurship Practice and Innovation Centre (EPICentre) accelerator space in 9,100 square feet and The Institute for Border Logistics and Security in another 4,550 square feet.
The EPICentre was created to support the transformation of people into entrepreneurial thinkers, and innovative ideas into successful economic and social enterprises through training, mentorship, and networking.* It provides in-class education, research, extra-curricular involvement, consulting/mentoring, competitions, and three unique startup programs. The Discovery Program is available to students who are at the beginning or "discovery" stage of their idea. The program will allow students to validate their ideas by completed elements of the Business Model Canvas. The Founders program is a three-month intensive program intended to teach startup founders the theory of the Lean Startup, while working through the Business Model Canvas and Starting Lean methodology. The  Incubation Program provides startups with support and resources to grow their business such as dedicated workspace, mentoring, workshops, funding opportunities and more.
Additionally, a seven-storey parking garage was constructed behind the Innovation Centre "to consolidate much of the parking on campus onto a significantly reduced footprint and create opportunities to add more green space and provide land for future capital development," according to said Dr. Alan Wildeman, President and Vice-Chancellor. The garage features numerous safety features including unimpeded sight lines, surveillance cameras, and bright lighting.
*University of Michigan EPICentre – http://www.epicentreuwindsor.ca/about-us/