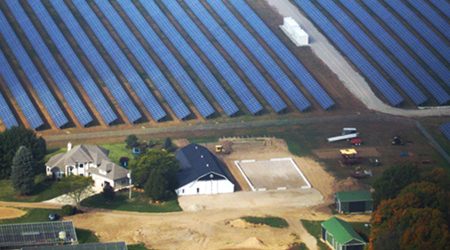 What was once a 35-hectare (88-acre) tobacco farm 9 kilometres south of the Town of Alymer, Ontario in Elgin County, is now home to Silvercreek Solar Park, a 10 megawatt (MW) ground-mounted solar photovoltaic (PV) installation. This is Silvercreek's first utility scale solar power project in Ontario.
Mid South Contractors was selected as the electrical contractor for the project by general contractor EllisDon. Mid South provided the electrical wiring/cabling and installed the solar park's 48,384 Canadian Solar Canadian-made high performance 1.8 metre by 1 metre CS6X photovoltaic modules, 115kV transformer station, collection station, and 17 km underground transmission line that connects to a new high voltage substation. The numerous rows of solar panels are mounted on aluminum racks and fastened to galvanized steel posts. Silvercreek is also SCADA integrated allowing management to remotely monitor and control the system.
Silvercreek Solar Park is projected to generate over 17.5 million kilowatt hours (kWh) per year to power approximately 1,699 houses annually and to displace approximately 246,940 metric tons of carbon dioxide emissions over its 20-year operational period.
The utility project had an overall cost of $25.3 million and achieved the milestone date for commercial operation in July 2014 and became fully operational in October 2014.