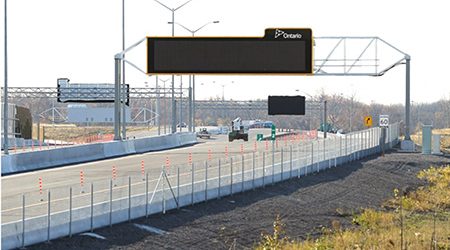 The Windsor-Detroit gateway is a vital trade corridor. Construction of the $1.4 billion Rt. Hon. Herb Gray Parkway (the Parkway) highway infrastructure project will ensure the safe and efficient movement of people, goods, and services to and from a future new Canadian inspection plaza and the Gordie Howe International Bridge, separate local and international traffic, and eliminate stop-and-go traffic in residential areas. Mid South Contractors was part of the electrical construction team for the 11 km roadway project installing tunnel, trail, and street lighting; fire alarm and security systems; pedestal distribution; and servicing traffic board.
The project included construction of a 6-lane extension of Highway 401 below grade and construction of a 4-lane extension of Highway 3 at grade. The Parkway included 11 tunnel and 15 bridge structures as well as a multi-lane roundabout. It is unprecedented in its community enhancement and environmental features for any highway, anywhere in Ontario. Green space situated alongside the two highway extensions and across the 11 tunnel tops was utilized for the 20 kilometre Parkway Trail set within 120 hectares (300 acres).
Construction of The Parkway began in August 2011. The first section of Highway 401 was opened in mid-2015 and the remaining section by the end of the same year. During construction four lanes of traffic – two in each direction – were maintained during core traveling hours. On-site temporary roads (road diversions) were built to move traffic around construction activities and maintain traffic flow while construction of the tunnels and bridges was underway. Additionally, Mid South and the other subcontractors implemented measures to minimize the impact of noise and dust of construction on the community.
Much of the materials used to construct the road diversions were recycled and full landscaping was installed when construction wrapped up. Beyond the limits of the Parkway, an additional 60 hectares of land, including wetland preservation areas and actively managed species at risk habitat, was preserved, restored, and improved.