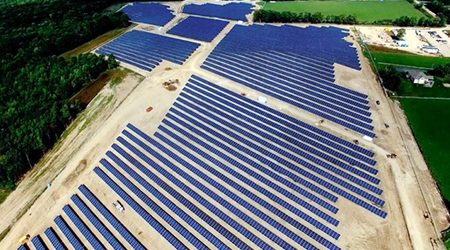 Mid South Contractors ULC has extensive experience with renewable or "green" energy projects, both solar and wind. Customers like Aria Solar can count on us to provide our knowledge and experience in the construction and installation of solar parks and wind farms.
Mid South was awarded the electrical contract for the Aria 9MW Solar Network project by general contractor EllisDon Design Build Inc. The $5 million contract included the solar arrays as well as construction of the substation located on 8- acres in the Township of Elmvale, Ontario.  The site provided some challenges for construction and installation as it is both sloped and rocky, but Mid South's team of professionals handled it adeptly.
The utility-scale solar development consists of 48,528 Canadian Solar MaxPower CS6X300/310P photovoltaic (PV) modules supported by 1350 racking structures and 5400 helical piles. Aria Solar is estimated to generate 15,956 MWh of clean solar power per year and 277,754 MWh over 20 years. Approximately 191,526 metric tons of carbon dioxide – the equivalent to taking approximately 40,321 cars off the road for one year – will be displaced during the system's 20-year lifetime making Aria Solar truly green.